When Should I Get My Oil Changed?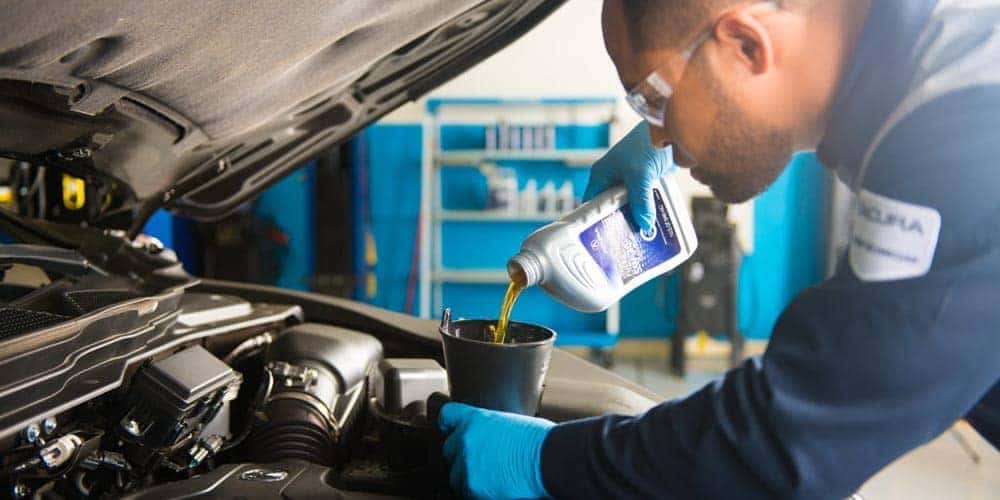 In general, the rule for oil changes has always been to get it done either every three months or 3,000 miles, but thanks to continuing advancements in engineering and technology, most manufacturers recommend changing oil every 5,000 miles.
Syosset drivers also know that every car is different. What's best for your Acura MDX or other Acura model? Referencing your owner's manual will give you the most accurate oil change intervals based on make and model. When you're ready to schedule service, contact the helpful team at the Acura of Huntington service center.
Why are Oil Changes Important?
Oil keeps your vehicle running smoothly, reducing friction between the many moving parts of your Acura vehicle. Over time, though, the lubricant gets dirty, making it less efficient. Waiting too long between oil changes can cause unnecessary engine heating, poor driving performance, and a decrease in efficiency, causing additional wear and tear.
How Do I Change My Oil?
To change your own oil, you must:
Find the right kind of oil for your vehicle
Collect tools for the job
Drain oil from the drain plug
Tighten the drain plug
Change the oil filter
Add the proper amount of new oil
Measure the oil level
Schedule Your Oil Change in Huntington
If you can't make the time to change your own oil, Plainview drivers can schedule an appointment at Acura of Huntington. Take care of this crucial maintenance and keep your car running smoothly for years to come!
---
Our Service Specials
---
Recent News From Acura of Huntington
Acura is a luxury automaker with a long and storied history. As a part of the larger Japanese Honda brand, Acura focuses on creating luxury SUVs, sedans, and coupes all around the world. Here at Acura of Huntington, our dealers love everything Acura, including the automaker's history, and we would like to share some of our favorite…

Regular wheel alignments are an important part of vehicle health. Get a wheel alignment here at the Acura service center at Acura of Huntington.

If you haven't noticed, crossover and SUVs are two of the most popular types of vehicle these days. Families and commuters alike near Bay Shore, NY are choosing them for their combination of utility, spaciousness, fun-to-drive nature, and long list of safety and tech features. Here at Acura of Huntington, our dealers don't think you…