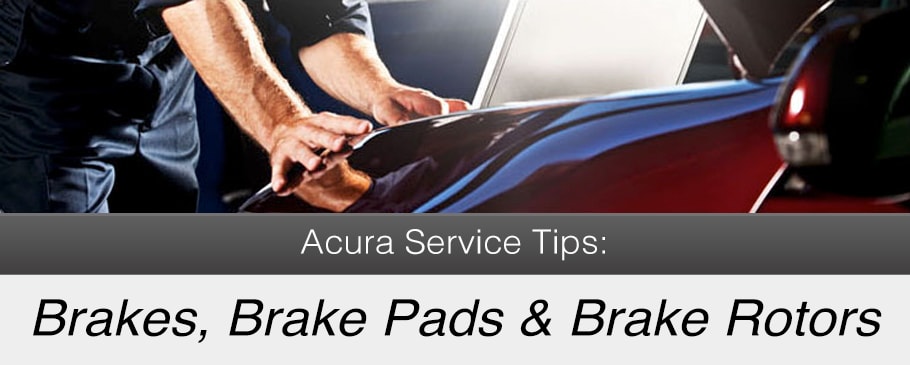 Schedule Service
Call Service (855) 356-1173
Acura Service Tips: Brakes, Brake Pads & Brake Rotors
Your Acura is a finely engineered machine, built for excellence at every turn. In order to ensure your Acura continuously performs at its best, it's essential that you take care of it and adhere to its maintenance schedule. The brakes are only one component of your vehicle, but they're an important one as they help keep you safe on the road. There are two key components to your brakes: padded clamps called calipers and a disc called the rotor. The calipers come together on the rotor to bring your vehicle to a stop, but over time these pads can wear thin. So how do you know when that happens? We can tell you at our Acura dealership near Northport, NY. Learn all about your brakes and get service tips from the professionals at our Long Island service center.
 
How Do I Know I Need New Brake Pads?
All of the brakes in your Acura have audible brake wear indicators, which means you'll definitely hear it when your brakes start to go. If you apply pressure to the brakes and it's time for them to be replaced, you'll hear a metallic screeching noise. It's normal to hear a softer squeal or squeak when you apply light pressure to the brakes -- don't confuse these more common noises with the brake wear indicator sounds.
 
Why Is My Car Leaking Brake Fluid?
If you've noticed that your brake fluid is low, it might be leaking. It could also mean that your brakes are getting worn. It's important to flush your brake system with new fluid every so often to remove any built-up condensation and keep everything working as it should.
If you decide to flush your brake system yourself, you should use Acura Heavy Duty Brake Fluid DOT 3. If you can't get this specific fluid, you can use DOT 3 or DOT 4, but don't do it frequently. This should only be a temporary replacement for the Acura Heavy Duty fluid because non-Acura fluids can corrode your brakes faster. Or, you could always bring your Acura to Acura of Huntington and we can take care of it for you!
 
Which New Brake Pads and Rotors Are Best for My Acura?
You should purchase Acura Genuine Brake Pads and Acura Genuine Brake Rotors, both of which are available at our Acura parts center in Huntington, NY. When you buy OEM Acura parts for your vehicle, you're getting components that were specifically designed to work well with the other moving parts in your car. These parts have been extensively tested on Acura vehicles and are designed to give you the best results in difficult braking situations. The brake pads are also designed to dampen noise and reduce vibration, and include high-insulating shims and specially formulated grease. Meanwhile, the OEM Acura brake rotors are built to last for performance and reliability.
To learn more about the best ways to take care of your Acura and its brakes, visit our Acura service center in Huntington, NY!